Your Podiatrist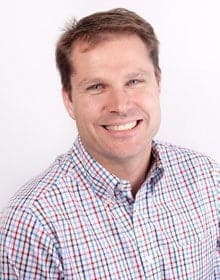 Dr Peter Moate, as a registered Podiatrist, is an expert in the diagnosis and treatment of disorders of the foot and lower leg. Peter has over 25 years of experience and provides comprehensive Podiatric care for all ages.

Peter has extensive experience in the field of sports Podiatry, and has been recognised with Fellowship of the Australasian Academy of Podiatric Sports Medicine.

Peter is also one of few Podiatrists in Victoria to be endorsed to prescribe scheduled drugs for his patients. This means you don't have to be referred to a GP for medications such and antibiotics or pain medication, thus saving you time, money and delayed treatment.

Peter is a Melbourne trained Podiatrist, completing his undergraduate degree at Latrobe University. Peter has vast experience in Private practice, in various clinical settings, including providing Podiatry coverage for athletes as a member of the Commonwealth Games Medical team.
Personal
Peter's personal interests include over 25 years of service as a Surf Lifesaver. He has worked as a volunteer lifesaver at Woolamai Beach Surf Lifesaving Club Phillip Island, and as a professional lifeguard at a number of Victorian beaches. In 2005 Peter was awarded the Life Saving Victoria, Victorian Beach Lifeguard of the Year. More recently, Peter has over 7 years experience as a senior air rescue crewman with the Westpac Lifesaver Rescue Helicopter Service. He enjoys regular swim training with fellow Lifesavers, running with his Kelpie Max, camping and travelling whenever possible. Peter is married with two young children.